How to Store Outdoor Furniture for the Winter?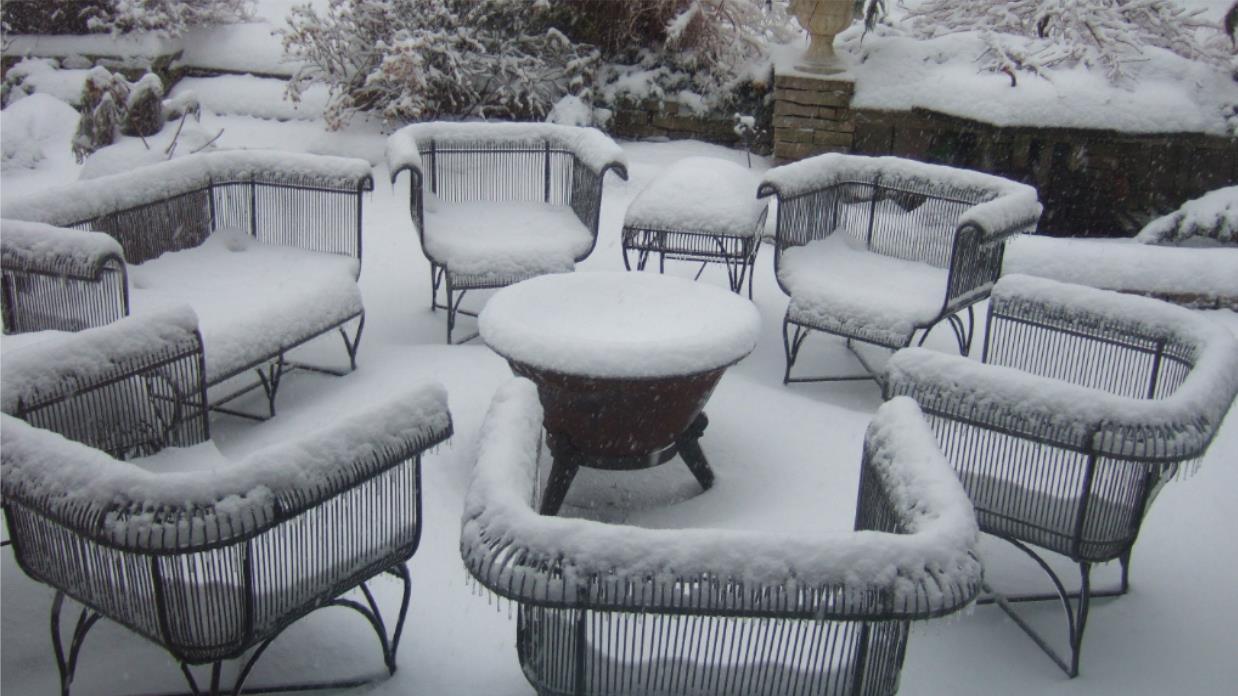 We spend a lot of time in our own backyard creating our own outdoor oasis. Now, with the seasons changing and it's getting a little chilly outside, it might be time to put away patio furniture. Storing those bulky outdoor gear isn't always easy, so here's a guide to help you plan for the successful storage of those outdoor gear!
Note that now is a good time to repair and clean the furniture, and then put it back in case of need! This will ensure it is stored at its best and make life easier when you uninstall it next season!
Before storing your outdoor furniture, you should prepare it so that it will look its best until spring. First, remove the cushions from the furniture in order to clean the sofa or chair. If there is dry debris, such as tree sap, on the furniture, you may need to use a soft-bristle brush dipped in warm soapy water to wash it off. Next, use your garden hose to flush any extra debris from the furniture, remembering to clean under chairs and sofas.
When the mat is soiled, it is best to scrub the item with a soft-bristle brush and soapy water before storing it. Once the pads are dry, place them in a large trash bag to keep dust out until the weather gets better again.
Here's a guide for dealing with all the different types of furniture: Be sure to check the manufacturer's cleaning instructions before using any cleaning product. Recommended cleaning solution: 1 cup bleach, 2 cups detergent, and 1 gallon of water.
Fabric cushions - If the cushions are removable, remove them and wash them with a recommended cleaning solution to kill mold. Let them dry and store them loosely in a clean, dry space.
Umbrella cloth - Wash with a brush and mild detergent. Let it dry in the open position, then store it in the closed position.
Metals - Wash all surfaces with water and detergent; scrub with a brush and rinse. If there are any rust spots, treat with an anti-rust primer, smooth with steel wool, and paint to match the original finish. Protective car wax works as the perfect top coat!
Wicker - Brush all surfaces with a recommended cleaning solution to clean and remove mold; rinse and dry. Refinish any areas that need fresh paint, apply moisture repellant to feet and legs, and store in a dry place. Apply paste wax to prevent moisture.
Wood - Clean with recommended cleaner and mild sponge. Rinse thoroughly and dry. Sand and paint where needed. Apply clear water repellent and a protective layer of paste wax.
Completely "winter" your furniture before storing
Winterizing treatments for each furniture type:
Wooden furniture: Apply a protective sealer to protect the wood from any moisture. If the moisture in the wood freezes in winter, this will lead to breakage. It's best to use both a protective sealant and wood furniture covers because, without a protective sealer, cold air will still pass through the covers. If the wood is painted, repainting before storage will improve durability. Wash furniture with a water detergent bleach solution and a mild sponge to make it as clean as possible before storing too!
Plastic furniture: Plastic furniture is very durable in winter conditions, however, placing it in sub-freezing temperatures can cause damage. It's best to keep plastic furniture indoors and wash it with a detergent solution before storing it. Be sure to dry it thoroughly so mold doesn't grow.
Metal furniture: Rain and snow can cause the metal to rust outdoors, damaging the structure of the furniture itself. Treat any potential rust with an anti-rust primer before storing metal furniture outside. A coat of spray paint that matches the original color of the metal can fix any discoloration. For maximum protection, car wax protects your metal furniture even in the most extreme conditions.
Wicker furniture: The first step in cleaning wicker furniture is to brush off the surface with a bleach and water solution to remove any mold in the nooks and crannies of the wicker. Then rinse the solution with a light spray and allow it to dry. Apply spray paint to any discolored areas and apply a moisture barrier to feet and legs that may be exposed to grain.
Cushions and fabrics: For cushions and fabrics, the most important thing is to prevent winter freeze-thaw damage as well as mildew and mildew on the cushion. The first step in this cleaning process is to vacuum and then wash them with a bleach-detergent mixture. It is best to store this furniture inside to avoid rain, snow, and rodents.
Where to store your furniture?
Outdoor furniture is best stored indoors during the winter. If you have a clean area to store this furniture, save space by stacking your furniture together and covering the stacks with furniture covers that fasten with straps. Most outdoor furniture will hold up perfectly in non-climate spaces. However, we do recommend covering the furniture with a chair or sofa cover to further protect it during storage. Remember, a non-climate space is similar to storing items in a garage.
Stack your furniture and covers
To save space, you can stack furniture together and cover it with a furniture cover or poly/vinyl tarp, secure with straps or weight.
Protecting the life of your outdoor furniture takes time, but it pays off in the long run - thinks of it as adding value to your home! Store your furniture safely and make more amazing memories for next season! If you want to buy new outdoor furniture, welcome to
contact us
.
CDG is a professional
custom outdoor furniture manufacturer
. CDG is a specialist in creating unique and inspiring indoor and outdoor furniture for the contract designer and garden market, selling these products in over 160 countries in over 10,000 large-scale projects over the past 16 years. Our products are widely used in outdoor, hotel, home and leisure industries, etc.