5 Tips on How to Choose the Perfect Dining Table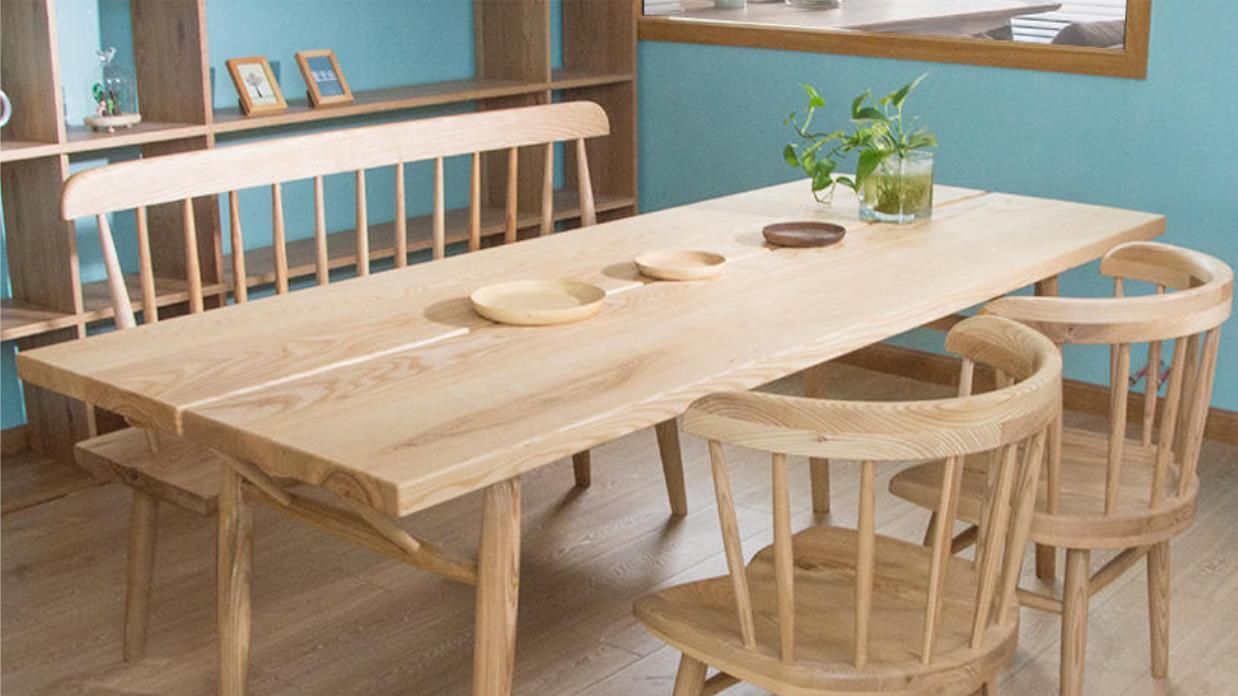 Round or square? wood or glass? vintage or brand new? chair or bench? Which one is right for you? there are many factors to consider when choosing a table for your place. After all, it's the center of your home where you can sit with family and friends for a more memorable dinner.
Before buying dining chairs and dining tables, be sure to check their heights together, as the wrong height can make you and your guests very uncomfortable. However, it's not just the height of the dining table and chairs, you should also consider the optimal shape of your dining room, the materials used, and the aesthetics.
Make sure to measure
One of the most important factors to consider when choosing a
dining table
is size. Here are some important measurement tips:
Table wall clearance: Measure the space around the dining room. To make it easy for your guests to sit down and get up from their seats, it's a good idea to leave a distance of 42 to 48 inches between the table and the wall.
Table-to-furniture clearance: If you have furniture in your dining room, measure 42 to 48 inches from the edge of the furniture, not the wall.
Another factor to consider when choosing a dining table is to strike the right balance between the size of the dining table and the space available in the dining area. A large dining table in a small dining room can make the space feel cramped.
Table measurement tips: To test out the table size for your dining room, it is recommended to take a sheet or two, place it where the table can go, and then fold it into the shape of the table. You can also use masking tape and chalk to get an idea of your space. This will allow you to visualize the space it will take up, and you can then measure the wall or furniture to table clearance.
Choose shape
Round dining table: Choose a dining table that matches the shape of your dining room. This enhances balance and harmony. A round dining table is a space-saving pleasure. It has no sharp corners and soft edges for easy transportation.
Rectangular dining table: It is perfect for long and narrow dining rooms. It leaves more room for traffic flow but is a good divider for open space definition areas.
Square dining tables: Similar to round dining tables, square dining tables offer a more intimate dining experience because everyone is equidistant. If you have a square dining space, this is the perfect dining table to choose from.
Oval dining table: This is a great alternative to a rectangular dining table as it is more space efficient. Plus, it has a more traditional look.
Sit comfortably
It is important to create enough elbow room for guests when chatting and eating. The dining chair you choose plays an important role in this. Here are seat size tips for a rectangular dining table:
4-foot table for four
5 to 6 feet long table for 6 people
7 foot-long table seats eight
8 to 9 feet long table seating 10
10 to 11 feet long table seating 12
Here are seat size tips for round dining tables:
3ft diameter table with base for 4 people
Four-foot diameter table with table legs
5-foot diameter table with pedestal for 6 people
5-foot diameter table with legs for four people
6-foot diameter table with base or legs for 8 people
7ft diameter table with base or legs for nine people
Keep material in mind
When choosing materials for your dining table, consider your existing pieces. Choose a table that blends perfectly with your dining room decor. You can also mix and match for vibrant, eclectic styles.
Wood: Aside from adding warmth and character to your dining room, the most significant advantage of a wooden dining table is its strength, which can even last a lifetime if properly cared for.
Also, it can withstand any damage, but it's important to remember that wood can be very porous. It doesn't like water, so we recommend cleaning your table with a damp cloth to remove any excess spillage. Also, use coasters and placemats when eating hot food or beverages to prevent marks on the table.
Glass: Glass dining tables are great because they are low maintenance and easy to clean. Plus, glass can make your dining room look more spacious while adding a touch of elegance to your interior.
Marble: Before you choose a marble dining table, you should know that there are two main types of marble, one with a matte finish and one with a sealer that gives off a shiny look. Marble dining tables can also enhance the aesthetics of a dining room. Buy sturdy placemats to avoid any dents or bumps.
Metal: Metal dining tables are the perfect choice to complement industrial or modern dining room interiors. Plus, it's easy to clean.
Style & design
Last but not least, when choosing a dining table, you need to consider your overall home interior style. If you have a 70's interior, a mix of old and new dining room decor is ideal, such as a wooden dining table and curved modern dining chairs.
Here's a summary of how to choose the perfect dining table for your home! If you want to buy an indoor dining table, please
contact us
.
CDG is a professional
custom indoor restaurant furniture manufacturer
. The design/build philosophy is the foundation of our business. We are able to work with a team of designers to design your projects and new collections. Working closely over the years with some of the world's most popular brands and chains, our reputation is built on an uncompromising philosophy of quality.