Outdoor Bar Stool Buying Guide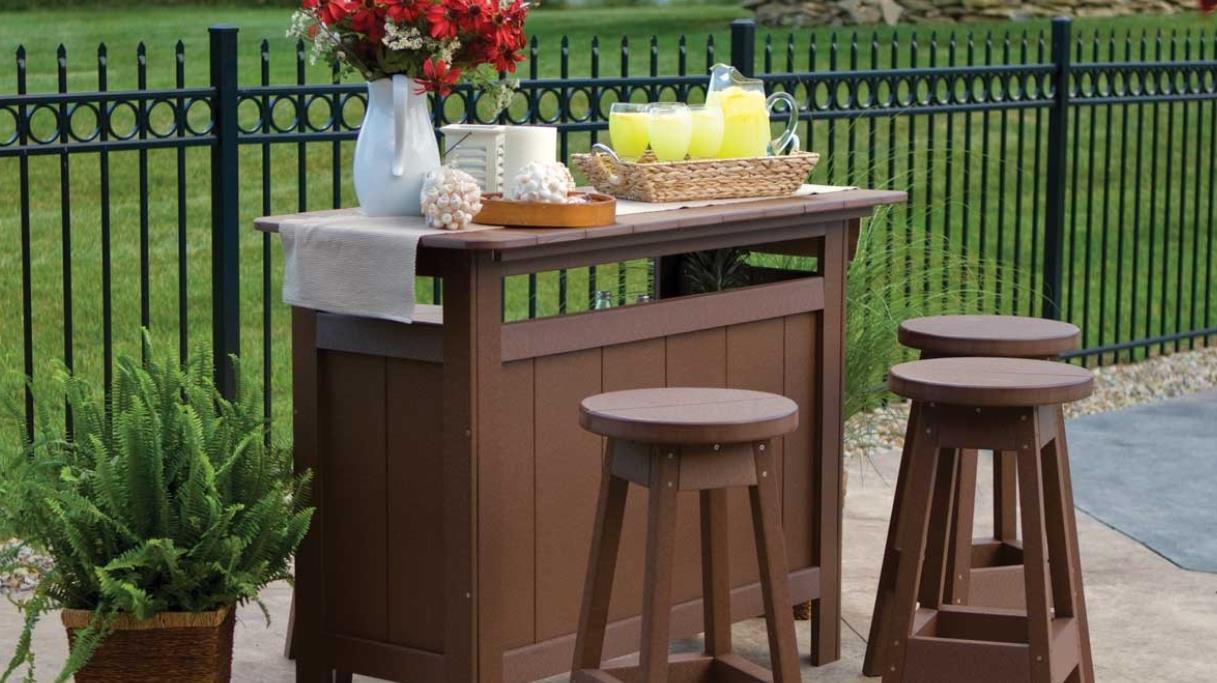 Whether you're sitting at a bar for an after-dinner drink or a Sunday brunch on a raised platform, you've probably found yourself on a bar stool at least once in your life. Bars, restaurants, and hotels, especially those with outdoor patios, often use bars and counters to entertain guests.
Bar counters and bar stools are taller than traditional dining tables and usually take up less space, so they are ideal for ensuring ample seating. Although they sometimes have the look and feel of commercial space, you can find stylish and functional bar stools that are perfect for your own home patio.
If you enjoy entertaining in your backyard, you need to make sure you have enough tables and chairs for all your guests. In addition to a traditional dining table or lounge, bar tables and bar stools are a great addition to your patio, especially if you're working with minimal space. Bar-height furniture is taller than normal and is a great casual addition to your patio. Bar stools are especially important because you want to make sure your guests get comfortable seating at your bar table or bar counter.
Choosing the right bar stool for your space can be tricky. First, you need to determine the stool height you need so that guests can sit comfortably at your bar or bar table. Then you need to figure out how many bar stools you need.
If you're choosing to seat at a table, you need to consider the size of the tabletop, and at a bar or counter, you need to make sure you have enough seating without overcrowding the space. You can then choose the styles and materials that best suit your needs and personal design preferences. In this guide, we'll walk you through the different options available and how to choose the perfect bar stool for your space.
Number games
You may sometimes see "counter stool" and "bar stool" used interchangeably, but it's important to note that the two types of stools are actually quite different. Counter-height stools are a little shorter than bar stools and are suitable for kitchen counters or counter-height tables. Bar stools are slightly taller and are used in bars or bar tables.
The height of a bar stool can be determined by first measuring the height of the bar or bar table. You want to make sure that the user can rest his or her arms comfortably on the table while leaving enough room for their legs under the edge of the table.
Note: Before purchasing a bar stool, measure the space between the floor and the bar or tabletop at least twice to ensure accuracy.
The seat height or distance between the floor and the seat of a bar stool is usually 30 to 36 inches. These bar stools fit best on standard bars or bar tables that are 40 to 46 inches tall. When determining how many bar stools you need, be sure to allow 26 to 30 inches between the center of one stool and the center of the stool next to it, so your guests can sit comfortably and get in and out of their seats with ease. If your bar is next to a wall, be sure to leave 14 inches between the wall and the center of the stool closest to the wall.
Tip: Leave extra room for the swivel bar stools so they don't bump into each other when someone turns the seats in or out.
Once you've determined the height and number of bar stools you need for your space, you can choose between a variety of styles to best suit your needs.
Back and halter
Backless bar stools usually have round or rectangular seats and can sometimes be padded. Backless bar stools are great if you have limited space and need to push the entire stool under a table or counter when not in use. They are also generally lighter and ideal for storage. A bar stool with a backrest provides the user with more support and is therefore more comfortable. However, they do take up extra space and are generally not suitable for storage unless you opt for stackable stools.
Armed and armless
Like bar stools with backrests, stools with armrests also provide more support and are more comfortable, but they also take up more space. If you choose to buy a bar stool with armrests, make sure you have correctly measured the height of the bar or table and that the armrests of your stool can easily be pushed under the surface when not in use.
Fixed and rotated
Because bar stools can sometimes be heavy, you may want to consider swivel stools. That way, you and your guests don't have to drag heavy stools off the counter and return quickly after you're seated. You can swivel the seat toward you and jump right in. However, swivel stools take up more space than fixed stools, especially if they also have armrests, so it's important to consider the amount of space you have available.
Material
Various styles of bar stools come in a variety of materials and can vary depending on the frame material and seat material. The frame of the bar stool can be made from aluminum, cast aluminum, wicker, wrought iron, steel, teak, wood, recycled plastic, and resin. The best material for your space depends on the climate in your area and the look you want. Some materials are more durable than others in wet conditions, and some are lighter and ideal for off-season storage.
Bar stool seating materials include slings, cushions, straps, metal, wicker, teak, wood, recycled plastic, and resin. The seat you choose depends largely on comfort and the look you want. Upholstered and padded seats are the most comfortable and will give your space a high-end look, but if you're looking for something more durable, you can opt for suspenders. It all depends on your personal preference.
Each material is available in a variety of colors and finishes to blend seamlessly into your decor and give you the aesthetic you need. If you want to customize the bar stool, welcome to
contact us
.
CDG is a professional
custom outdoor furniture manufacturer
, our products are widely used in outdoor, hotel, home, and leisure industries, etc. Working closely over the years with some of the world's most popular brands and chains, our reputation is built on an uncompromising quality philosophy.