Bar Stool Height and Width Guide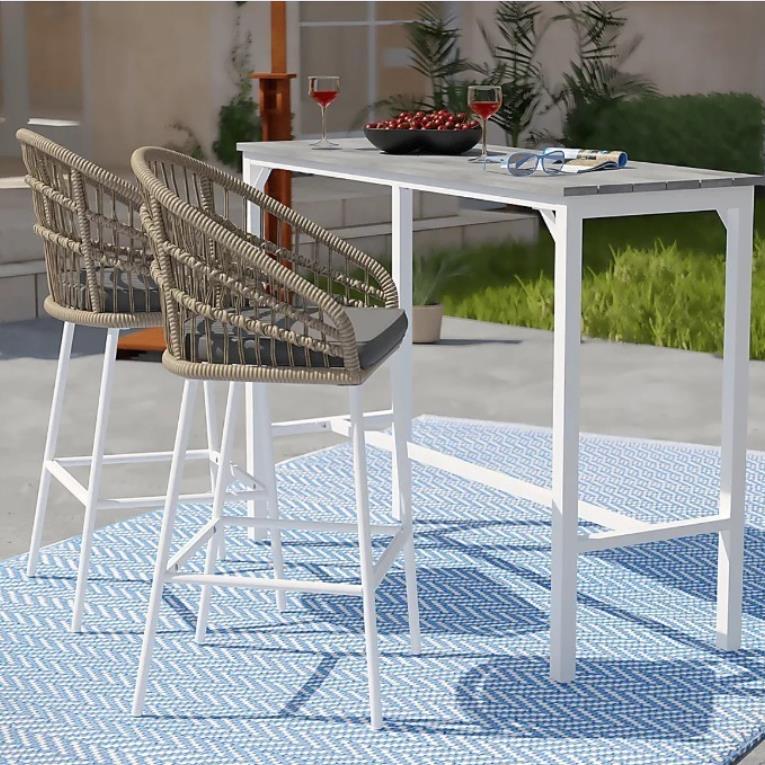 Finding the perfect
bar stool
height can be a daunting task, especially when you're struggling to set up a patio table, breakfast bar, or kitchen island. Whether you're ordering a stool online or going to the store in person, you want to avoid choosing a seat that's too short, too high, or difficult to sit on.
Fortunately, with a little measuring and preparation, learning how to choose the best bar stool height for all counter types is easier than you might think. This simple guide will show you how to find the perfect seating height for your table or bar.
Best Bar Stool Height
Why Do Bar Stools Have Different Heights?
Bar stools are an alternative to dining chairs and are often used as compact seating for patio dining tables on smaller decks and balconies. Commercial bar stools vary in height as there are industry standards for bar, counter, and table heights. Knowing the average height of stools, chairs, and seats for these furniture pieces will help you make the right choice.
The average height of a bar table is between 40 and 42 inches. Counter-height tables, such as kitchen counters, are usually 34 to 36 inches tall. The typical height of a dining table is about 28 to 30 inches. Most patio bar tables or counter-height dining tables are the same sizes as indoor furniture, so guidelines for indoor and outdoor furniture are the same.
Bar Stool Height Design
Because of their design, bar stools often vary in height as well. While the general seat height may be the same, an armless design may fit perfectly under your desk, while a high-backed chair may not. If your bar stool has armrests, make sure the seat can slide under the counter without jamming.
The designers considered the space between bar stool seating and standard bar and counter heights. Finding a comfortable bar stool with armrests for your outdoor dining area should be fairly easy as long as you stick to the dimensions in this guide. To allow guests to customize their seating height, consider adjustable bar stools for your layout.
What is the Optimal Height for a Bar Stool?
The industry standard average height for a bar is about 40 to 42 inches. Using a rule of thumb for bar stool heights, subtract 9 to 13 inches from the height of the table to get an average bar stool height between 27 and 33 inches.
There are a few exceptions to this rule, as custom bars are common these days, so be sure to measure the bar counter where you buy the stools before investing in a full set.
Here's a quick review of how to measure bar counters:
Grab a metal tape measure and start at the floor.
Pull the tape measure to the top counter.
Write down this measurement.
Subtract 9 to 13 inches to find your ideal bar stool height.
If you're still in doubt, measure out a piece of paper the same height as the bar stool you're buying. Try sitting at a similar height to see if it feels comfortable. You can also place a book or box on a standard dining chair to mimic the height of a bar stool and determine if you have the correct size.
Measurement Guide
How to Measure the Height of a Bar Stool?
Calculating the height of a bar stool is simple. As above, measure from the floor to the top of the counter. Remember, if your bar is a standard height of 40-42 inches, you should look for bar stool heights between 28 and 33 inches. Shorter or higher seats can be uncomfortable for you and your guests.
How to Measure the Width of a Bar Stool?
Bar stools also come in standard seat widths, usually 15, 17, or 21 inches wide. Large or tall bar stools tend to have the widest seats and should look natural and well-proportioned when placed on the bar or counter.
While the seat shape of your bar stool may vary, there should always be at least 12-18 inches of knee room between the seat and the counter wall. This space makes for a more comfortable sitting position and provides ample legroom.
Bar Stool Distance
What is the Ideal Distance Between Bar Stools?
Knowing the distance between bar stools is almost as important as knowing how high they should be, as it can make your entire bar feel spacious, comfortable, and comfortable.
Ideally, the distance between bar stools should be about 12 inches (1 foot) between the edges of each bar stool seat. This distance provides plenty of room to get in and out of the chair, as well as turn around and talks to the person next to you, especially if you choose a swivel bar stool that allows for a full range of movement.
Paying close attention to table height, chair size, and spacing between bar stools can help you find the perfect height for kitchen or patio seating. Hopefully, with the help of this handy guide, you've found the best bar stool heights for your outdoor dining area, and you'll be able to arrange them nicely next to your bar or counter.
The above is a brief introduction to the method of determining the height and width of the bar stool. If you want to buy a bar stool, please
contact us
.
CDG is a professional
custom interior and exterior furniture manufacturer
. We are experts in creating unique and inspiring interior and exterior furniture for the contract designer and garden market with over 10,000 products in over 160 countries for the past 16 years Sold in large projects. In our various styles of furniture, you will always find stylish furniture items to suit your project, including modern style furniture, vintage style furniture, industrial style furniture, country style furniture, and many more.