Commercial Patio Furniture Buying Guide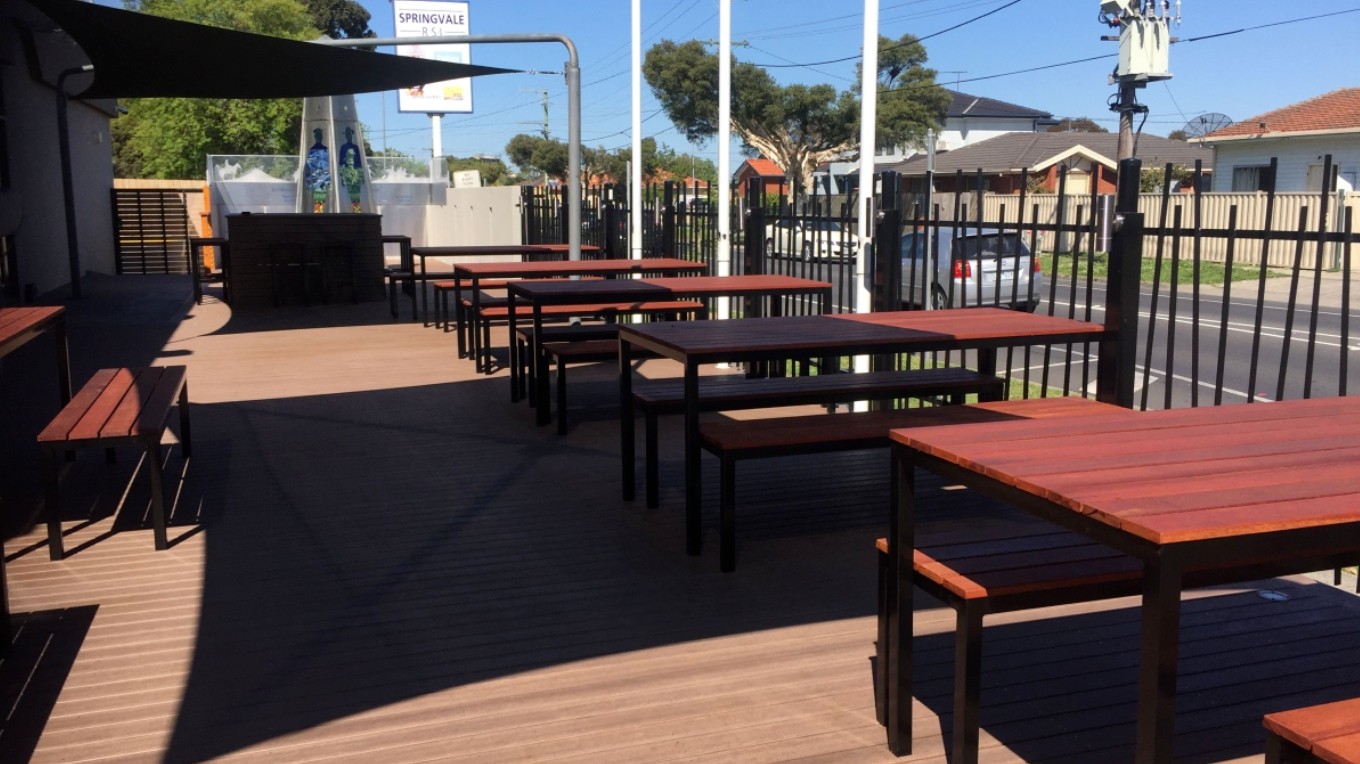 Creating an outdoor dining area is an idea that will attract customers. A comfortable outdoor setting will provide an enjoyable dining experience, help customers socialize, and keep them coming back. Commercial
outdoor furniture
is designed to handle weather conditions such as sun, rain, and wind, and deals with a large number of customers every day.
Commercial Patio Tables & Tops & Bases
Outdoor dining tables in different shapes, sizes, and materials are one of the main pieces of furniture for creating a cozy outdoor dining area. The style with umbrella holes can put an umbrella on each table to protect customers from the sun and rain. Most tables are designed at bar height, giving you the flexibility to use them at the bar if you have an outdoor bar.
Type
Commercial outdoor tables come in different sizes, models, materials, and shapes to ensure a unique ambiance that suits every occasion. Considering the size and ambiance of your venue, you can buy coffee tables or dining tables.
Table Base-Top: You can buy the table top and base separately instead of an integrated table, find the best table for your patio by matching different bases, table tops, and frames.
Picnic Table - Bench: A picnic table-style outdoor table is ideal for a buffet, giving patrons a place to sit and enjoy a meal, or restaurants near woodlands will use a picnic table on the verandah to complete their ambiance.
Coffee: A coffee table is a great option to invest in a coffee shop or restaurant patio to create a small chat and coffee area.
Counter: The counter table will work with bar stools to create the bar space you want near the pool in the backyard.
Bar: The bar counter is not only designed for bars, you can also use the bar counter on the terrace to create a unique environment for cocktail parties or parties.
Shape
A round table is ideal for sitting two, or a large size round table allows large groups to communicate effectively.
Outdoor square tables are perfect as you can create larger tables for celebrations or groups of large clients when needed,
Alternatively, you can opt for rectangular tables instead of putting together square tables for larger groups or events.
Combining an outdoor table with chairs or stools of the same style will provide your patrons with a comfortable dining experience.
Commercial Outdoor Seating
As important as patio tables are, commercial outdoor seating is the next step in creating patio areas for restaurants. For outdoor use, outdoor seating furniture is mostly designed without padding or cushions, although you can purchase additional cushions for extra comfort.
Unlike indoor chairs, most outdoor chairs include armrests, which are ergonomically designed for extra comfort. Choosing chairs of the same material for your table will set the mood of the environment. Additionally, folding chairs can be used for additional seating during peak hours, or come in handy when congregating in a makeshift patio area.
Sofas and rocking chairs are the perfect addition to the fold-out patio, creating cozy and relaxing corners for conversation and coffee, or gathering family or friends around the fire pit and enjoying the weather.
Commercial Outdoor Furniture Materials
The material of commercial outdoor furniture is probably the most characteristic feature that makes the furniture "outdoor". Since commercial outdoor furniture will be used outdoors, the materials are different from indoor furniture. Commercial patio furniture is made of durable materials that can withstand weather conditions and outdoor use.
Tables: Commercial outdoor or patio table frames are usually made of weather-resistant and reliable metal, wood, plastic, or melamine. The table top can be made of glass, granite, tile, laminate, or the same material as the frame.
Chairs: We know that durability is the key to long-lasting commercial outdoor furniture and this applies to outdoor seating. Metal chairs are the most affordable and reliable option. Plastic outdoor chairs are lightweight, and chairs without armrests are easy to stack for storage. Alternatively, wooden chairs and benches will provide your patrons with exceptional comfort.
Synthetic Materials: Commercial patio furniture made of plastic and resin is lighter and often easier to maintain. Using synthetic materials instead of rattan in wicker commercial patio furniture makes them more resistant to sun, wind, and rain. Nylon, PVC (polyvinyl chloride), and polyethylene are the most commonly used synthetic materials in patio furniture. For durable patio furniture that will last longer, consider purchasing items made from high-density polyethylene (HDPE), which is stronger and more durable than PVC. Since they come in a variety of styles and colors, you can find one that suits your yard and ambiance.
Metal Material: Aluminum commercial outdoor furniture is the lightest metal choice, durable, and resistant to rain, sun, and corrosion. Because the material is flexible, it can be cast into a variety of shapes, giving you a variety of options.
Commercial patio furniture made of steel is more durable due to its heavier weight and, unlike aluminum, it won't be blown away by the wind. If the steel is stainless or galvanized, it can withstand corrosion, but be aware that chlorine will rust the steel in any case, so it's probably not a good idea to use it near a swimming pool.
Fabric: Upholstered commercial outdoor furniture is the pinnacle of comfort. Most are made with polyester, acrylic, and vinyl threads and are mostly moisture-resistant.
How to Choose the Best Material for Commercial Outdoor Furniture?
There are a few points to consider to understand and choose the best materials for your commercial patio furniture.
Complement your ambiance by creating harmony between indoor and outdoor furniture. You can find furniture in different colors and textures in different styles made from the same material. Decide on your style and match different furniture to match your aesthetic.
If you want your commercial patio furniture to last and look new every time, you have to take good care of it. Most furniture can be cleaned with warm water and soap, but some materials require high maintenance. So before buying, it's important to consider how much time you will spend maintaining your furniture.
Putting comfort first is what you should consider when shopping for commercial outdoor furniture. Materials with a soft texture will make patrons feel comfortable and spend more time on your patio. Choosing chairs and seats that fit the height of the table will make customers' backs more comfortable since they won't have to bend over to use it.
In Conclusion
A patio or balcony with comfortable sofas for lounging and benches surrounded by trees in the garden are both wonderful and relaxing. You can transform your setting into a peaceful and comfortable sitting area, chat corner, or all-night party garden, or make the most of your pool area by investing in the right commercial outdoor furniture. If you want to buy commercial outdoor furniture, welcome to
contact us
.
CDG is a professional
custom restaurant furniture manufacturer
, our products are widely used in outdoor, hotel, home, and leisure industries, etc. Working closely over the years with some of the world's most beloved brands and chains, our reputation has been built on an uncompromising philosophy of quality.